Program 49. Valtických vinných trhů
Vážení příznivci Valtických vinných trhů,
níže Vám představujeme letošní program, který je díky dokončené rozsáhlé rekonstrukci zámecké jízdárny a dalších prostor Zámku Valtice obohacen o několik novinek.
Rozšířili jsme dění do Zámeckého divadla, kde si budete moci například vyslechnout přednášku "Víno na zdraví" pana profesora MUDr. Milana Šamánka a docentky MUDr. Zuzany Urbanové či shlédnout některé z komediálních představení. V historickém Zámeckém sklepě z roku 1430 bude po oba dny hrát od 21:00 cimbálová muzika. Novinkou bude také sobotní komorní koncert Jaroslava Hutky v Zámecké kapli. Těšit se můžete také na Standu Hložka, oblíbenou kapelu The Teachers či cimbálovou muziku Jožky Severína.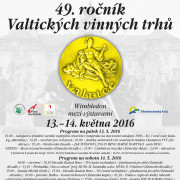 Věříme, že nově nabitý program vřele uvítáte a užijete si tak 49. ročník Valtických vinných trhů opravdu naplno.
V následujících dnech  proběhnou hodnocení odborných komisí, společně s výběrem Championa letošních VVT a vína, jemuž bude udělen Pohár profesora Viléma Krause (nejvýše ohodnocené víno odbornou veřejností ). Minulý rok titulu Šampionů dosáhlo bílé víno Pálava, výběr z hroznů, ročník 2013  – z Rodinného vinařství Pavel Binder z Rakvic a červené cuvée Kometa cuvée – jakostní známkové víno, ročník 2012 – z produkce vinařství PATRIA Kobylí, a. s.. Pohár profesora Viléma Krause získalo víno Chardonnay, pozdní sběr, ročník 2014 – od firmy MORAVÍNO, s.r.o., Valtice.
Kterým vínům se bude letos dařit a dosáhnou významných titulů a ohodnocení se dozvíme již brzy. Přejeme hodně štěstí všem přihlášeným vinařům, aby to bylo právě jejich víno, které odborní porotci vyhodnotí jako letošní nejlepší.